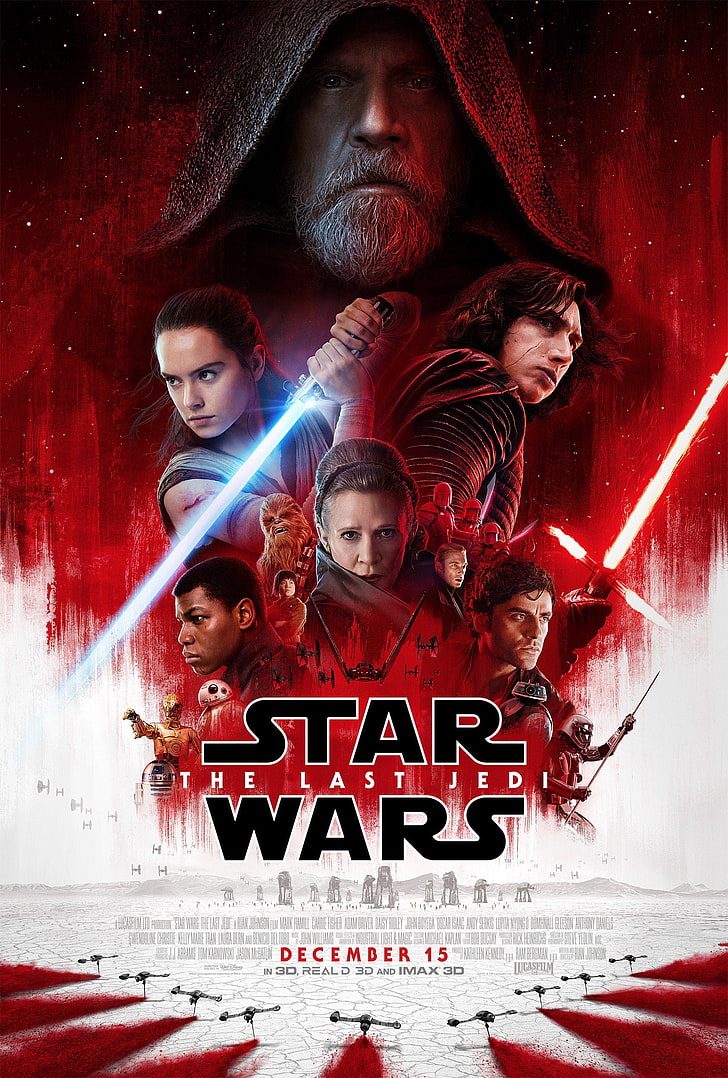 Movie which brings goosebumps
WARNING: Contains spoilers of 'STAR WARS EPISODE VIII'. You are reading at your own risk.

'Star Wars: The Last Jedi' directed by George Lucas is a movie which shows the classic action theater aspect – the war between good and evil. Seeing the title, we can say that events take place in the universe and that is exactly what is happening.
The main characters are incredibly well-interpreted and presented by: John Boyega, Oscar Isaac, Andy Serkis, Lupita Nyong'o, Domhnall Gleeson, Anthony Daniels, with Gwendoline Christie in her returning role together with the new cast members: Kelly Marie Tran, Laura Dern and Benicio del Toro. Of course, there is also Mark Hamill who plays Luke Skywalker together with Carrie Fisher who impersonates Luke's twin sister – Princess Leila. The movie was dedicated directly to her, in her memory, as her last performance. How can we forget about Adam Driver who played Kylo Ren, also known as Ben Solo? And Daisy Ridley who performed as Rey?
What about the music? As always, the perfect job was made by John Williams whose magnificent tunes fit into that piece of art just supremely. During the time when the music sinks into us, we can get into action more and more and feel every emotion radiating from this movie more intensely.
The whole action is basically but not entirely around Rey who learns about her powers and is trained by the legendary Jedi Luke Skywalker who tries to do something as a compensation for his previous mistakes. Rey also finds out about her special connection to Kylo Ren, the evil and lost Supreme Leader's disciple. The plot is surrounded by a huge war between Resistance fighters and the First Order.
This feature is, indeed, breathtaking! There are a lot of unexpected and surprising twists and turns which I really enjoyed watching. Firstly, I was not sure if I would want to watch it, because – let's be honest – this kind of action is not my thing… But after all, I cannot say that I regret anything. Anyone who thinks that watching this episode without seeing the previous ones is pointless is wrong, because I haven't watched any other part either and after having watched "The Last Jedi" I still do not find the reason I should.
Of course, there were some scenes that I did not like, but it is only because they do not go the way I would like them to. But it only added some more adrenaline and emotions into the whole thing.
Also, besides all this facade of fight and war, there is love but not only the romantic one. There is also a family kind of love. And, of course, where there is love there must be betrayal and disappointment.
All in all, I really enjoyed watching "The Last Jedi", especially in IMAX, which brought me only good memories and made the whole experience somehow more realistic. I can ensure everyone that after watching this piece of art you will not regret that.
Dictionary:
goosebumps – gęsia skórka
take place – odbywać się
cast – obsada
impersonate – odgrywać role
magnificent – wyśmienity
supremely – absolutnie
sink into – zatopić się
radiate – emanować
entirely – całkowicie
compensation – rekompensacja
disciple – wierny uczeń
plot – fabuła
feature – film
twists and turns – zwroty akcji
pointless – bezsensowny
facade – powierzchowność
betrayal – zdrada
ensure – zapewniać